Time to grow up and take off those training wheels...


So far things have been pretty cruisey. Each week my target kilometers have gone up, and I have happily been hitting them. I had been feeling pretty happy after each ride and hadn't hurt at all after them. (Which I was pretty impressed with considering I started from no bicycle fitness to speak of!) That was up until the 60km ride. I felt it after that one!
The end of the ride was quite typical, got back to the car and had that crazy feeling of "I guess I could do another lap of West Head" (another 25kms). By the time I'd driven home, I was pumped for another quick ride around the neighbourhood. The sun was out and I actually had some free time in my day. It was a great idea until I went to get out of the car. At that moment my legs kindly reminded me that I had totally destroyed them and they were less than impressed about it. Hmmn, maybe that ride would wait!
Due to some work commitments I then hit a blip in my training schedule. I had to go to Cairns for a week. The hotel was supposed to have a gym but I couldn't think of anything worse than exercising in a hotel gym with some dodgy equipment. The concept of not riding for a week terrified me, as you can lose bike fitness very quickly, and everyday I remind myself that every bit I do now, will help me on Nov 19.
With this dilemma, what's a girl to do?
The answer was quite simple really, dismantle the bike and take it on the plane! And that is exactly what I did.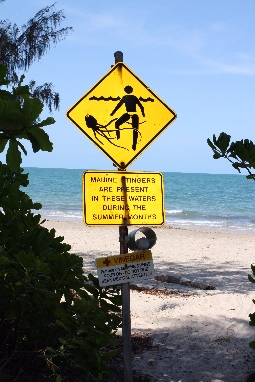 Cycling in Port Douglas was excellent. It was so warm, which was a great change from the Sydney weather, and luckily for me, it was sunny compared to the downpour Sydney had that week! The roads were pretty flat the but scenery made up for it, and some kilometers were better than none!
On the Thursday we had the afternoon off, so another chiropractor (who had also brought her bike) and I cycled to Mossman Gorge. The scenery was beautiful and the ride was really nice. I hadn't had the chance to actually do long flat distances yet, as I'd been riding mostly hills, and was surprised how hard and different it was. On the flats you don't get up as often. All I can say is numb bum!
Lessons learnt this week included: when you don't intend to clip in, make sure that it hasn't accidently stealthy clicked in before putting your foot (and consequently the whole bike and you) on the ground, and that suncream is essential for cycling in warmer weather. Glove and tshirt tan lines are not attractive unless you are going for the "I just fake tanned badly" look.
Soon the week was over, so the bike was dismantled again and packed on a plane for the journey home. Due to lack of time, I didn't manage to do my target kilometers for that week. That meant a 20km jump to the next target.
The next big ride was 80km. West Head is 25km, and Akuna Bay is about 15. To make up 80kms doing these loops screamed boredom.
It was time. I had to grow up, throw out the L plates and take of the training wheels. I had to start riding with the big kids. You know, those rides that the crazy people do. Instead of driving to Akuna Bay, I was going to have to ride there, and then do it. Just like the people you see riding on the road. Those cyclists. Real cyclists. I still felt like an imposter. Not a REAL cyclist.
So I took a teaspoon of concrete and commited to 2 laps of the Royal National Park. Each lap was 40kms. There was no "easy out" and I had to grow up in a lot of ways. First of all, everytime I mentioned it to someone, they asked if I was mad. Having never seen it, I was a little concerned. Secondly I had to ride on the road. Not a pretty quiet road like I had been doing previously, but a main road and not a main road at 5am before there are cars on it. A main road at 7-11am in the morning. Thirdly and something that scared me more than the rest, was riding up a windy national park road that was narrow for 2 cars, let alone with a cyclist. This meant the the cars would be stuck behind me without being able to go past. And that meant I couldn't go slow!
It turns out that the Natio Park loop isn't so bad. The only evil bit is the winding narrow section at the very end. Although on the second lap, that last little winding bit transforms from an evil beast to the devil in the firey pits of hell.
After just over 4 hours we made it to the top and had completed the 80km target. Back in the carpark we got the giggles as we were in a world of hurt. (Or maybe that was just me!)
Time has seemed to fly! Cairns was late August and I have been steadily riding weekdays and weekends since. Mainly hilly sections as that will be what we will be riding on the day. I have been looping Akuna Bay and West Head, now riding from St Ives like the big kids and also lapping the National Park and my local streets. Rain, hail or shine, much to the amazement of many of the cars going past! Most people like to spend their Friday nights relaxing or going out, but here I am, lapping the local streets at 9:30pm in the dark and rain.
So that gets you ALMOST up to date.. but you will have to wait untill next time for the rest!
We have a number of auction items which will be posted this week, as well as a raffle with some awesome prizes. All donations (past and future) will receive a raffle ticket(s) to go into the draw.
Stay tuned for further details to be updated next week.
Please help me reach my goal of $2500 to help Redkite help children with cancer and their families and provide much needed support for real, essential everyday items such as bills, transportation, counselling and tutoring while they miss school. Every dollar counts, and all donations over $2 are tax deductable.